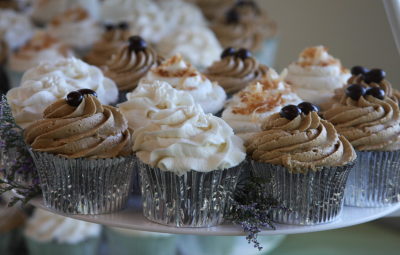 Artisan cupcakes are a relatively recent phenomenon, but cupcakes have been around for more than 200 years. Read on for a little cupcake trivia..
The origin of "cupcake" is straightforward . . .  Simply put: they're baked in cups. As early as the 18th century, some cookbooks called for baking individual cakes in small earthenware teacups or similar vessels. Baking them in tins didn't happen until later, after gold rushers sought out other uses for their sifting pans.
. . . but there's another, equally plausible explanation. In the US, at least, the term also could have originated from the volume of ingredients used to make small cakes—a cup of flour and a cup of butter, for instance—much like the term "pound cake" referred to the ingredients' individual weights.
The flavors are limited only by imagination. Around the country, bakers have topped the diminutive delights with everything from candied bacon and heirloom tomatoes to chocolate-covered potato chips.
This is where the fun starts at love. cook. nourish. – cupcakes are always a treat and we love creating flavors and designs that are delicious and unique.
cupcakes.
Cupcakes come in a variety of sizes:
Mini
Standard
Large
Wedding
*Minimum order for cupcakes is 2 dozen of one flavor combination
*Gluten-Free flavors available for additional charge
Some of our favorite Combinations:
• Pumpkin with Crystallized Ginger, Dried Cranberries, Pecans with Vanilla Buttercream
• Snickerdoodle with Cinnamon Buttercream
• Our signature Red Velvet with Vanilla Buttercream
• Luscious Chocolate with Espresso or Chocolate or Vanilla Buttercream
• Maple Bar with Cinnamon or Maple Buttercream (available with bacon too)
• Coconut Cream with Salted Vanilla Bean Buttercream
• Smores – Chocolate cake with a graham cracker crust and marshmallow cream
• Peanut Buttercup with creamy Peanut Butter Buttercream
• Peppermint Patty – Dutch Chocolate Peppermint with Peppermint Buttercream
• Best Ever Banana with Vanilla Buttercream or Peanut Butter Buttercream or Cinnamon Buttercream
• Cheesecakes in cupcake sizes – Cookies and Cream, Dulce de Leche, Chocolate or New York
• German Chocolate with Pecan-Coconut Topping
• Triple Lemon- Lemon Buttermilk with Lemon-Vanilla Bean Buttercream
• Cookies and Cream – Luscious Chocolate with Oreo Buttercream
• Choco-Caramel – Luscious Chocolate with Salted Caramel Buttercream
• Strawberry Margarita – Fresh Lime cake with Strawberry Buttercream
• Strawberry Lemonade – Lemon Buttermilk with Strawberry Buttercream
Imagination is the only limitation…
Come Taste & See…