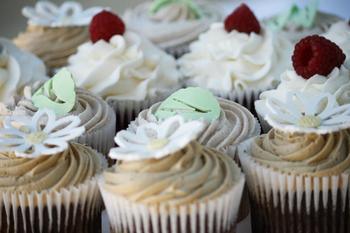 For over 20 years, Cindy has been scratch baking and creating one-of-a kind wedding cakes, special event cakes, cupcakes, dessert displays and "addictive" granola (so we've been told). Baking and delivering throughout the country to homes, churches, parks, and other venues, without a single catastrophe! We will be honored to bake, decorate and deliver to you too.
love. cook. nourish. bakes.
Wedding Cakes. Birthday Cakes. Special Event Cakes. Cupcakes. Dessert Displays. Granola.
& other desserts.
We offer dessert displays for special events that can be featured with special designs for the display or packaged for pick up or delivery.
A selection of freshly baked cookies, bars and mini cupcakes make a wonderful ending to a special dinner or a dessert offering for a party. Or give the gift of a "Cookie Basket" filled with "2 bite sweets".
Trays and displays are available in seasonal favorites so we are able to use the freshest ingredients.
*Have a favorite family recipe that you just don't have time to bake? Let's talk… We'll bake it Cindylicious for you.
Trays and displays have a 2 dozen per flavor minimum for orders.
dessert flavors.
Salted caramel crisp rice treats (GF)
Lemon Lovers Bars
Triple Chocolate Brownies
Almond Macaroon Brownies
Individual Cheesecakes
Cranberry Bliss Bars
Peanut Bars
7 Layer Gingerbread Bars
7 Layer Hawaiian Bars
Mini Cupcakes
Chocolate-Pistachio Tarts
Cookies – by season, ask about our current flavors